Data consulting
Define your roadmap to being data driven
Data development
Focus on your core business and let us build your data manipulation pipeline, reporting and visualizations.
Research and development
Use AI to leverage your data to solve your main business problems and find new opportunities.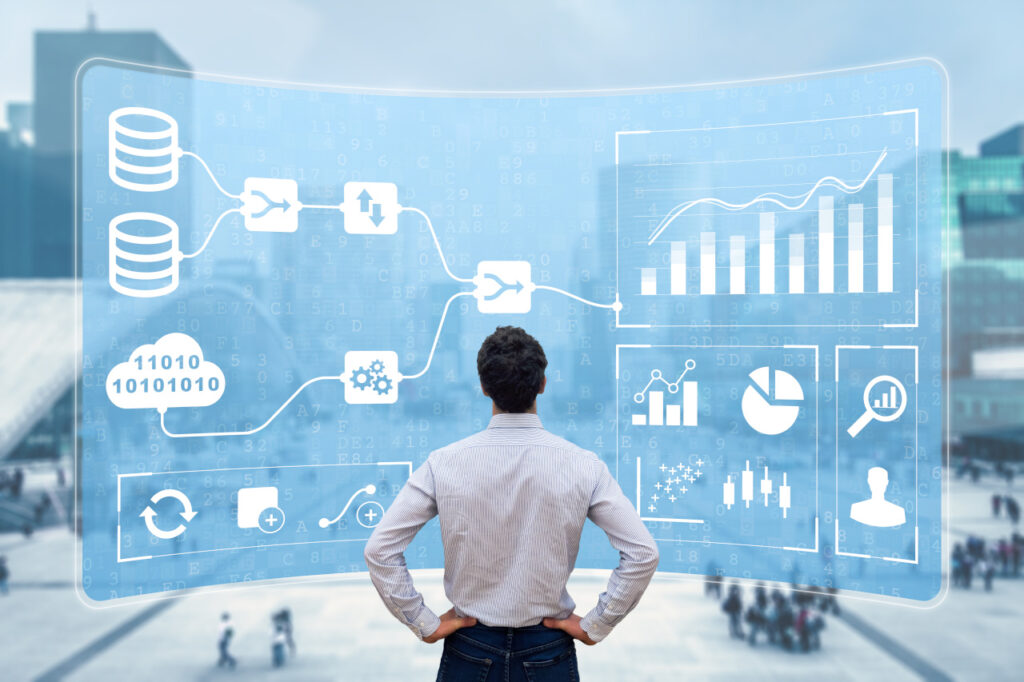 Automate your data manipulations
Save time from endless downloads and manipulations:

We automate your recurrent data extractions and manipulations so you can achieve:
Cost reduction: free up your users' time

Improved quality: eliminates the risk of errors due to handling and or integration


Better decision-making and responsiveness: users quickly have results and focus on the insight, decision and action
Go further than the traditional commercial or financial indicators!
We analyze your data, design and develop your dashboard and visualizations to:
Find and explain the factors that can positively or adversely impact your business so you can act.
Benefit from real-time information workflows to manage your activity
Communicate relevant results in the clearest and most effective way, to users, your customers or other key stakeholders.
Predict to anticipate and act
Leverage your past data with machine learning, act today to transform your future.
AI is not a financially inaccessible technology, and you don't need to have perfect mature processes to benefit from it's insights. Contrary to what many businesses think,  AI is a set of techniques that you can benefit from to solve many business problems or improve the experience of your employees or customers.
We offer tailor-made solutions to make the most of your data, and respond to your business issues such as improving your sales forecasts, anomaly detection, process analysis (process mining), and more.
Feedback from our customers
"Dieple Consulting & Training Limited Provided Linneo Health with consulting services to support our IT Strategy. They worked collaboratively with the different work streams within Linneo Health, including operations, IT, and Finance, to develop a road map for our IS Strategy for the next 3 years. We were able to use this road map to highlight key focus areas for resource, cost savings opportunities and investment priorities for our information system spend."
"In 2020, we kicked off projects on a journey toward interpreting the data we extract from our multiple systems at Ferring International. We reviewed many suppliers, and tenders, including one from Dieple Consulting. What was remarkable about their service offer is that it was tailored specifically to our needs, and free from license fees; making it much easier for them to demonstrate the value of their machine learning solutions to our business. The solution they proposed would reduce our current analytical results considerably. Christophe displayed great intuition around our data, with the skills to translate our business needs into IT requirements for the extraction process, and then convert that into an analysis that demonstrated real process understanding, as well as statistical skills. It was a pleasure to interact with Christophe and his team on this, and we look forward to working with him and the team in the future as more opportunities present themselves."
"Katherine and Chris have recently provided invaluable advice and insight into a technology transformation project that our group of businesses is embarking on. They have demonstrated an exceptional ability to understand a set of challenges and come up with a set of tangible objectives and criteria to benchmark or decision making against. I would encourage any business owner to leverage Dieple's expertise and years of experience in solving and delivering transformation projects."