Where Ideas Launch
The Podcast for the Sustainable Innovator
"Our biggest challenge in this new century is to take an idea that seems abstract – sustainable development – and turn it into a reality for all the world's people" By Kofi Annan
Download Where Ideas Launch The Podcast for the Sustainable Innovator on any of your favourite podcast streaming channels
Want to be a part of the movement to save our planet?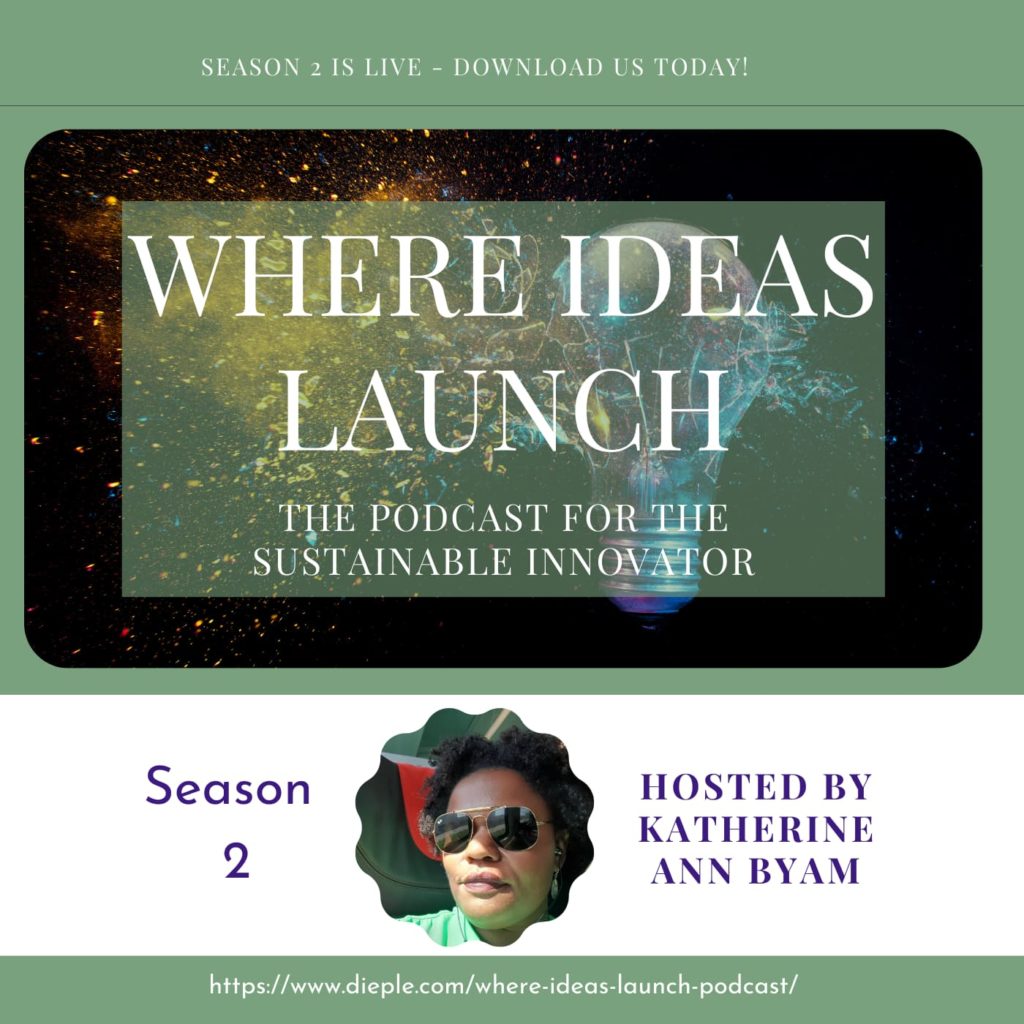 Our guests are diverse, from entrepreneurial startups to educators creatives and strategists, all sharing a purpose, to drive sustainable innovation to new heights.
Do you want to join the line up for this exciting new show? Sign up here for the resources to help you be a great podcast guest – and to schedule your talk with Katherine Ann Byam – Host of this show.
Exploring the Question - What Problems Do You Want to Solve?
Looking for support with your data driven strategy?
Where Ideas Launch – The Podcast for the Unexpected Innovator
Everyone of us can be the change. In fact, everyone of us must.
The most important thing we can do is stay in the question.
Where Ideas Launch aims to answer the question, by asking deeper and better questions. It aims to prompt change not by staying in the analysis, but by originating a new genesis.
This podcast aims to:
Challenge the status quo: show you how to speak truth to power, in a way that sparks momentum for change.
We will explore creativity from the eyes of educators, business people, entrepreneurs, and artists.
We will examine sustainable clothing brands, sustainable business models, and other ways to support the UN sustainable development goals.
Join us every week to look at our shared future from a new perspective, so that we understand the questions, that give rise to better ones.
Interested in reviewing your strategy?
Why not check out our virtual service hub? https://www.dieple.com/vsh
How to Build a Resilient Business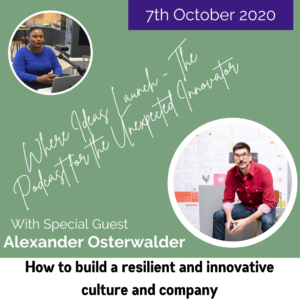 Where Ideas Launch was curious to learn what inspires the world's #4 Management Thinker.
We asked Alex these 3 questions:
What's your why – what question gets you out of bed every morning with a burning desire to solve it?
We know in our world today we have a burning platform of sustainability. What do you currently see as the role of business in solving these problems?
We know from your work that Innovation is heavily influenced by a company's culture. What are the top 3 things that companies with a great innovation culture do to sustain that culture and expand their economic lives?
Dr. Alexander (Alex) Osterwalder is one of the world's most influential innovation experts, a leading author, entrepreneur and in-demand speaker whose work has changed the way established companies do business and how new ventures get started.
Ranked No. 4 of the top 50 management thinkers worldwide, Osterwalder is known for simplifying the strategy development process and turning complex concepts into digestible visual models.
He invented the Business Model Canvas, Value Proposition Canvas, and Business Portfolio Map – practical tools that are trusted by millions of business practitioners from leading global companies.
Strategyzer, Osterwalder's company, provides online courses, applications, and technology-enabled services to help organizations effectively and systematically manage strategy, growth and transformation.
 His books include the international bestseller Business Model Generation , Value Proposition Design: How to Create Products and Services Customers Want, Testing Business Ideas and The Invincible Company published in Spring 2020. To learn more about Alex's work you can subscribe to the Strategyzer news letter by clicking here
Sustainable Business Trends in Luxury Brands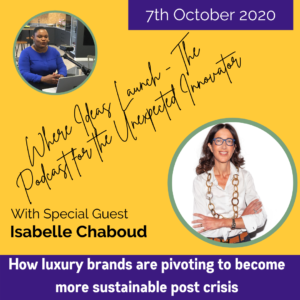 Where Ideas Launch – The Podcast for the Sustainable Innovator had the pleasure of interviewing Isabelle Chaboud on her insights on how luxury brands are becoming more sustainable.
Isabelle is an inspiration to her students past and present, as she does finance with style and flair. Her articles have been viewed more than 350000 times, a testament to the value she brings.
This podcast explores:
The financial impact of the pandemic on luxury brands bottom line.
The trends in sustainable change and whats driving it.
The upskilling needed by people adversely  impacted by the pandemic.
Isabelle Chaboud is an Associate Professor in the Finance Law and Accounting department of Grenoble Ecole de Management. Since December 2018, she has been Programme Director for the MSc in Fashion Design & Luxury Management and since September 2019, responsible for the MBA Brand & Luxury Management specialisation.
Her main areas of teaching are financial analysis (especially in the luxury sector), auditing and international accounting.She teaches or taught in Grenoble, London, Paris, Berlin, Marrakech, Moscow, Tbilisi (Georgia) and Singapore.
Before joining Grenoble Ecole de Management in 2001, Isabelle worked for 7.5 years for PriceWaterhouseCoopers in Lyon, France where she was a financial audit manager. She had clients in various industries as well as in services. She was part of the European Internal Audit team of PwC and worked in Spain (Madrid) and Portugal (Lisbon).
Isabelle is a French native but lived for more than three years in the United Kingdom, two years in Germany, one year in the United States, one year in Spain.
She graduated from Grenoble Ecole de Management in 1992 and from the International Teachers Program (ITP) delivered by HEC Executive Education, Paris in June 2014. She regularly publishes intellectual contributions in different media. to read her article on this topic, click here.
How to Thrive in a Recession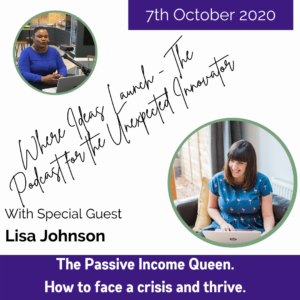 In February 2020, I attended an HBR networking event, where BCG offered insights to attendees about the pending recession.
Little did we know that a month later we wouldn't just be in recession, but the world would come to a standstill in a battle against an invisible disruptor.
In April, I met Lisa Johnson, a former city analyst turned entrepreneur, shouting to everyone who would listen that they need to build passive income streams into their business models.
This episode talks about:
What is passive income, and common examples.
Lisa's journey to grow her business from 30K in losses to over a million in revenue in 3 years.
How she represents and advocates for diversity and inclusion and against bullying of any kind.
Lisa Johnson is a 7 figure business coach specialising in helping entrepreneurs scale their businesses using passive income from memberships and courses.
After a tough childhood spent in social housing, Lisa went on to have successful careers in law, banking and the entertainment industry. Her background in overcoming obstacles has helped mould her into a bold, straight talking coach, who is never afraid to be an authentic and outspoken truth teller.
Lisa is a huge believer that everyone can become a success no matter their background and is known for her anti-bullying campaigning online.
Lisa lives in Hertfordshire, UK with her Husband and 8 year old twin sons but coaches around the globe.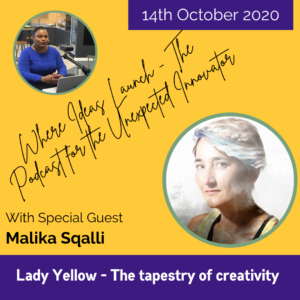 I met Malika over a question. I was consumed by the idea that people who do really great things, do so because they ask great questions. I shared this thought in a virtual social networking group and Malika chimed in – As artists, this is exactly how we work. We seek to ask questions only the individual viewer or consumer can answer. if the question is answered, the piece loses interest for us.
In this episode we discuss
How culture and diversity influences creativity
How she combines mental and physical challenges to open new portals and generate new ideas
How she uses her environment to stir her creative genius, no matter the setting.
Born in Morocco to Austrian and Moroccan parents, Malika is a visual artist and photographer, who cites her diversity curiosity and connectedness as inspirations for her work.
Having lived in various countries, without her family from an early age, she identifies with a feeling of belonging to everywhere, and being the foreigner as well. She learned to exploit this polarity in her art and photography, creating different mosaics of culture and a universal perspective, shaped by her natural optimism and hope.
Her travels and work have taught her to seek the similarities, common wisdom, and shared mythologies of the ancestors, rather than the differences and boundaries that disconnect us.
Malika's work has been exhibited on four continents, and in cities as diverse as London, Marrakech, Los Angeles, and Seoul. In 2013 she also delivered a masterful TedX talk on her travel along the latitude line 34.
Malika was also a qualified personal trainer and holistic lifestyle coach Kettlebell athlete for a decade in London. She is also a fully licensed skydiver and skydiving camerawoman and created a personal photography project while in the sky.
" we are made of Atoms, ideas and stories, for if we don't act on our ideas they don't become stories. " Malika Sqalli TEDx Casablanca 2013
To view Malika's work, you can access it here
How to Create a Sustainable Business Model for Kelp Farming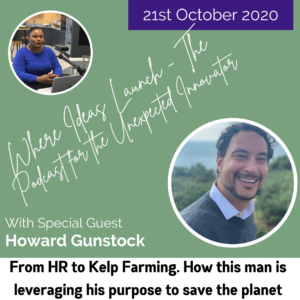 If there was ever a story that sums up Where Ideas Launch, its the story of this CEO and Chief Kelper of Carbon Capture Limited. Howard's background may surporise you, but this is a story of genius, demonstrating that creativity is everywhere, once the question is good enough.
In this episode we discuss
How Howard pivoted from HR to decarbonising our atmosphere.
How a sustainable business model was developed for his Kelp farming operation
What you can do to get involved in a supporting your planet to survive and thrive.
Howard Gunstock refers to life as the great adventure. A career people developer, Howard is one of the co-founders of Carbon Kapture, a business whose intention is to help the world reframe their relationship with carbon and CO2 pollution; he is never one to shy away from a daunting challenge.

His career is a bit of an adventure too. After leaving school in the mid 90's he became an early practitioner of the Law of Attraction, living in Australia and working in sales under the tutorage of Julie Renyard (EatPlayLive). After a stint in Telemarketing he worked in event management and lived and worked in Ibiza before another career pivot in 2003 took him into Banking and Insurance whilst he studied HR. Now, with over a decade's experience in executing corporate development strategies for some of the world's best-known brands, he is pivoting once again into monetising one of the world's biggest challenges, the climate crisis.
Want to support this daring young company? click here to support their crowd funding campaign.
Creativity On Purpose - Finding Meaning In Work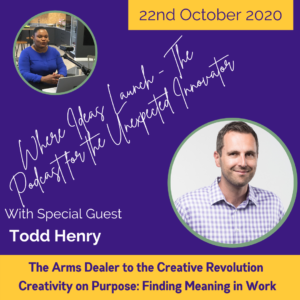 I discovered Todd Henry during an online summit on Productivity, and I've followed his work ever since.
We had a great chat recording Where Ideas Launch – The Podcast for the Unexpected Innovator, where we talked about the privilege of finding meaning when many are simply are trying to survive.
Efficiency is overrated he said, and effectiveness contributes to real value in an organisation.
Positioning himself as an "arms dealer for the creative revolution", Todd Henry teaches leaders and organizations how to establish practices that lead to everyday brilliance. He is the author of four books (The Accidental Creative, Die Empty, Louder Than Words, and Herding Tigers) which have been translated into more than a dozen languages, and he speaks and consults across dozens of industries on creativity, leadership, and passion for work.
He's got a new book on the way. The Motivation Code. Tune in to our podcast on your favourite player today.
Overcoming Adversity - Double Episode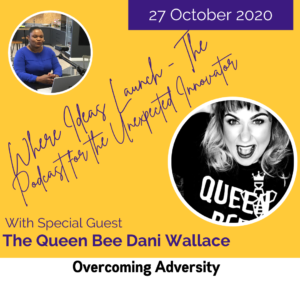 Dani Wallace Is a Public Speaking Coach, Incredible Singer, absolute survivor and a guest on my show.
We talk about her journey to overcome adversity and build a successful business and life for herself and her children. I chose this topic, because many people need hope right now, and Dani delivers this in abundance.
About Dani Wallace
As a former serial self-saboteur, having grown up on the council estates of Preston, Dani has survived the adversity of domestic violence, homelessness and single parenthood to become a leading voice in empowerment around the UK.
Dani uses her knowledge of both traditional employment in the corporate sector and self-employment in the entertainment industry to deliver memorable, inspirational and thought-provoking talks. Through her world class courses, masterminds and VIP experiences Dani helps people all over the world create incredible talks that help them stand powerfully on stage, reaching more of their ideal audiences.
Fearless leader of the I Am The Queen Bee Movement and creator of the Fly Anyway Foundation, Dani helps people the world over Show Up Wise Up and Rise and is a reminder to anyone who enters her orbit that they too, regardless of their journey can #FLYANYWAY!
Developing a Culture to Drive Innovation and Change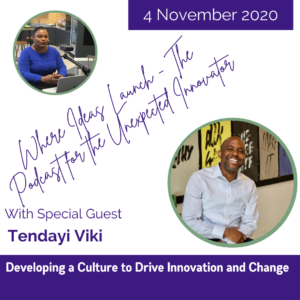 I discovered Tendayi Viki during a Strategyzer masterclass on building resilient companies.
We talked about:
What company cultures are more likely to ride the wave of disruption well.
We discussed sustainability, growth and transformation
What type of pirate we should be to make changes happen.
 Tendayi Viki is an author and corporate innovation expert. As Associate Partner at Strategyzer, he helps companies innovate for the future while managing their core business. He has written three books; Pirates In The Navy, The Corporate Startup and The Lean Product Lifecycle. He previously served as Director of Product Lifecycle at Pearson, where he co-developed an innovation framework that won the Best Innovation Program 2015 at the Corporate Entrepreneur Awards in New York. Tendayi has been shortlisted for the Thinkers50 Innovation Award and was named on the Thinkers50 2018 Radar List for emerging management thinkers to watch. He is also a regular contributor at Forbes. 
Leveraging Your Strengths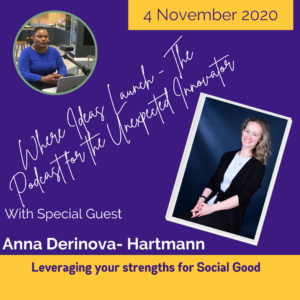 I met Anna during a women tech workshop back in June, and since then we've become friends and allies in a journey toward sustainable change.
During our interview we discussed
Her motivation to become an ally for social equality
The key focus areas for sustainable development
Lessons learned in creating partnerships between NGOs and the For Profit Sectors
Anna Derinova-Hartmann is a passionate social impact and international development activist. She combines extensive experience in Program Management, Community Engagement, Corporate Social Responsibly and People Management.
Her purpose is to challenge social inequality and institutional barriers by empowering vulnerable social groups and communities through innovation and meaningful connections.
Anna, as she states herself, is incredibly lucky to have been exposed to various working environments and experiences: NGO sector, global corporations, social impact and tech start-ups. Thanks to this versatile experience she learnt a lot about the power of communities, social connections, mutual responsibility and open communication. While contributing to building and scaling numerous start-ups, optimizing and developing business divisions and corporations, Anna witnessed the ultimate value of cross-functional cooperation and human relations.
Anna is very passionate about supporting social impact start-ups and initiatives across the world, coaching and mentoring founders and women in Tech. She is consistently helping to leverage innovation in humanitarian assistance and international development spheres, as well as bridging an "artificial gap" (her words J) between corporate and social impact non-profits.
Anna loves her cats, her husband, reading, networking, engaging in challenging discussions with her Moving Worlds co-fellows from all over the world. She is very open to being approached on LinkedIn with any requests, suggestions, initiatives or just topics to chat about.
Fresher Food, Fitter Planet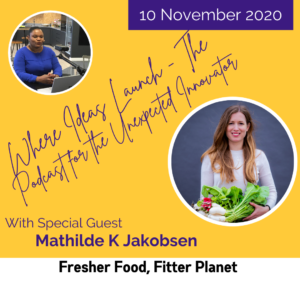 I discovered Mathilde on another show, and had to get to meet her, as her story and business was so inspiring to me.
We talked about Fresh.Land and how the idea for her sustainable business came about.
How she overcame challenges in the start up process
Advice for others wanting to make a positive impact on the planet.
Mathilde Jakobsen is CEO and Co-Founder of Fresh.Land, an award winning green tech startup with an innovative and disruptive model to the food industry.
The company shortens the journey from farm to table by connecting farmers, logistic partners and consumers in one integrated digital platform. With Fresh.Land's just-in-time model, instead of months, it takes just a few days from harvest to delivery. By cutting out 3-5 middlemen, farmers secure 20-50% more value and consumers get fresher, tastier products.
The model has a lower carbon footprint compared to that of the conventional chain — 88% lower, according to a study by World Wildlife Fund (WWF) — as it eliminated the need for cold-storage and ripening chambers, which are large greenhouse gas emitters.
Fresh.Land has been identified by Forbes as "truly pioneering" and "one of the most promising green start-ups in the EU", and awarded the "Climate Solver Prize" by WWF. We thrive to be the lighthouse of the food industry, setting new standards and leading the way for green transition. In Fresh.Land the trees and fields are our "natural warehouse" and products are only harvested after the order is placed by the consumer.
Our model disrupts the giant old food industry that has long been ripe for disruption.
Managing Learning & Change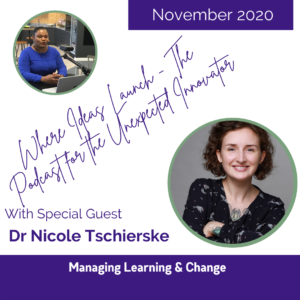 I met Nicole during a women tech workshop, and later joined her Women in Stem Reimagined Course as a guest Speaker. I interviewed her as part of my courageous career show, and decided to share her advice on my podcast as well.
We talked about:
Important skills in organisations for the next 2 years.
Tips for organisational transformation
Vision for women in Technology for the future.
 Dr. Nicole Tschierske is a scientist and positive psychology coach who helps women in science and tech use their head and heart to get seen and noticed in their company.

She's an experienced change manager and coach, and we are going to be talking about her experiences and learnings on the change journey.

Nicole lives in Hamburg, Germany, is a food chemist by training and holds a PhD in chemistry next to certifications in coaching, positive psychology, change management and advanced problem-solving.

When she's not buried in research papers and books on Positive Psychology and Positive Leadership you can find this scientist-turned-coach taking long hikes in the German countryside or mesmerised by Mary Poppins on the screen.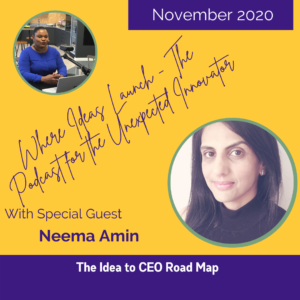 In this episode Idea to CEO we take you on a journey through 4 key elements to building your business, going through the Idea, Development, Commercialisation and Growth.
 Neema Amin (MBA) – Escape Strategist, is a business coach supporting freelancers, consultants and micro businesses to obtain financial freedom and create a life and business they love. She has built several 6 figure businesses over more than a decade of Entrepreneurship.
Katherine Ann Byam (MBA, FCCA) is a sustainability business strategist, consultant and career coach. She is the founder of Dieple, Digitally Enabling People, A digital transformation consultancy firm based in the UK helping start-ups to scale up, and coaching executive business leaders.
 Together we run a group and a purpose driven movement called collectively driven, a community for women to grow sustainable businesses and incomes for their families.
We formed this collective as we wanted to make an impact using collaboration as our model. We believe in a system that serves everyone and not just a few. We believe in levelling up incomes so that we all can live an outstanding life.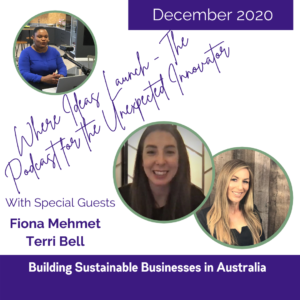 Where Ideas Launch is taking a trip down under. In a country of 25.7 million people almost all of whom live nearer to the coast than in land, this is a place of interest for climate, evolution and change.
Today we have 2 guests and we will be exploring sustainable work and sustainable supply chains in this little island 😊
Fiona Mehmet from Brisbane is the founder of Allthingsfi a sustainable brand, marketplace and ethical business.
Allthingsfi provides high quality locally made products to the community, through ethical and fair trade practises. The Allthingsfi mission is to end poverty and human trafficking through conscious fashion solutions and ethical decision making.
Terri is an Australian Lawyer with her own boutique commercial law firm based in Sydney, Australia.  She is currently working on developing  new workplace solutions for businesses. She believes everyone should be able to thrive at work and hopes she can educate and influence more businesses. Her aim is to create more legally compliant and productive workplaces that allows employees and managers to thrive.
The Digital Transformation Of Water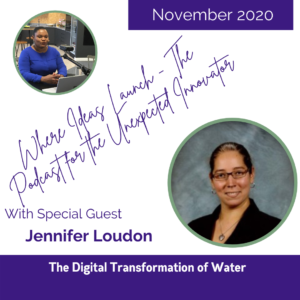 Today we interview Jennifer Loudon on how she's digitally transforming water.
We talk about some of the difficulties surrounding water in our world, her intelligent water services business in the US and what we can all do too make a difference.
Jennifer Loudon is an environmental scientist with 20 years of laboratory experience in wet chemistry, microbiology, molecular biology, ecotoxicology, marine biology, and protein biochemistry.  She has a Bachelor's degree in Marine Sciences and a Master's degree in Environmental Sciences from Rutgers University in the United States, and is currently pursuing a graduate certificate from Stevens Institute of Technology in Environmental Engineering.  Jennifer is an active volunteer in several local and national water related professional associations.
She has made a life out of being a water nerd.  For the past 11 years, Jennifer has been Laboratory Manager at Raritan Township Municipal Utilities Authority in Flemington, New Jersey, U.S.A.  In 2018, she was nominated by the Water Environment Federation, and selected by the UNLEASH organization, to be one of 1,000 young professionals from around the world to come together at the UNLEASH Innovation Lab in Singapore to develop and accelerate innovative solutions to the United Nations' Sustainable Development Goals by partnering with multiple stakeholders that are at the forefront of innovation and global development.
In May of 2020, Ms. Loudon founded a smart water startup, Intelligent Water Services, that offers wastewater treatment utilities an efficient and streamlined way of managing industrial users through a Process-as-a-Service business model coupled with advanced technology.  Recently, Jennifer has begun offering services as an independent consultant for other startups.  Her areas of expertise include biological and chemical fields of study, as well as grant funding application submissions.
Her husband and her rescue dog help keep her sane, and she can be seen dancing around the lab on extra stressful days.
The Journey Ahead - Lessons and Opportunities
mozallowfullscreen oallowfullscreen msallowfullscreen>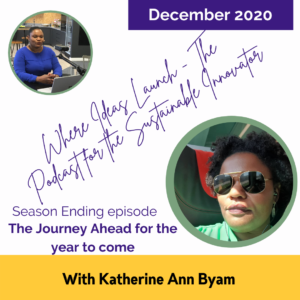 The Journey ahead – The lessons and the Opportunities.
The biggest lesson to take from 2020 is we have the ability of
foresight, yet we ignore the signals. We allow our drive for instant
gratification to blind our vision ahead. And we don't adequately prepare because
we believe our money protect us.
Yet many are beginning to realise that money for retirement
is not necessarily the thing that will feed us, shelter us and keep us safe.
Futurists like Amy Webb and Bernard Marr combine their
understanding of history, science and trends, as well as risk management
parameters to come up with reasonable scenarios that we ca put in place to
provide greater assurance of resilience.
In 2021, things will most certainly be tougher before they
get better. The economic and social fabric repair still has a long journey
ahead, with more viral strains of covid, and the slow pace to deploy vaccines,
we know there'll be more disruption, and someone will have to pay the cost of the
stimulus packages that many well-off countries have been living on.
Katherine Ann Byam (MBA, FCCA) is a business resilience strategist, consultant and career coach. She's the founder of Dieple, Digitally Enabling People, A digital transformation consultancy firm based in the UK helping start-ups to scale up.
She supports leaders in tackling design challenges that create and sustain business and
professional growth in an evolving global marketplace.
She hosts Where Ideas Launch – The podcast for the sustainable innovator and
a career show on Youtube called Harnessing the Courage to Lead.
Kate spends her time between the coasts of south England and west France, enjoying writing as a creative outlet.
The Plight of the Artisans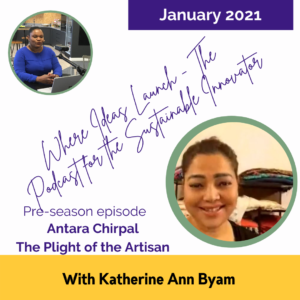 We are often the architects of our own demise. We choose fast fashion over slow, cheap and convenient over niche and artisanal, and we perpetuate the challenges of a fairer distribution of wealth.
Today, I'm offering up an Idea and a call to action to all of you. Build and patronise a new amazon for the artisans. Make it easier for voices like my next guest, Antara Chirpal, to have her products reach the mass market in a more direct way, without having to spend more than 50% of the retail price on ads and middlemen.
Antara Chirpal is the founder of Maya Weaves. This is a social enterprise with an artisan cluster of more than 200 grassroot artisans for handmade fabrics, Teracotta and hand embroidery.
The work unit is located in the interior of West Bengal. Maya weaves does handspun, handmade cotton, khadi, mul, linen, silk, Tussar and Jamdani stoles, sarees, and much more.
Antara is an ex investment banker (with American Express Bank) turned social entrepreneur. She is championing the cause of responsible consumption and production. From the UNs 17 Sustainable Development Goals.
Today she shares with us her experience in a world of grassroot artisans: the joys and the struggles.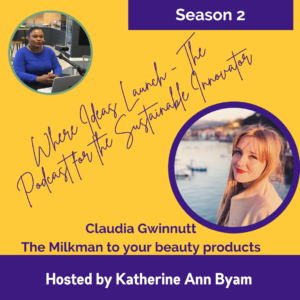 At the time of writing, my next guest Claudia – Founder of Circla became a  F:Entrepreneur Top 100 inspiring females for 2021!
 Claudia Gwinnutt worked in financial services for nearly a decade. Unfulfilled and miserable She decided to take some time off to work on an idea that had been niggling in the back of her head for a few years: The milkman re-imagined for beauty.
We talked about:
Simple change in your beauty routine can save thousands of kilos of plastic waste ending up in landfill
Moving from a linear to circular business model while retaining convenience, price and quality
Staying true to your mission despite the challenges of 2020
Circla contributes to 6 of the UN Development Goals but our main focus is Number 12 – Sustainable consumption and production
In her words:
 This was the start of my journey to starting Circla, born out of frustration on the amount of single-use plastic packaging in my beauty routine.  I raised pre-seed investment from Sustainable Ventures and in August last year quit my corporate job for good! The last year has been a rollercoaster, we have pivoted the business model twice due to Covid-19 and now finally about to roll out our new model across the whole of central London. I run the company by myself with help from friends and family.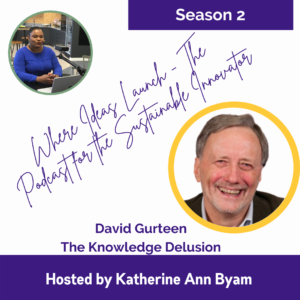 I met David Gurteen February 2020, prior to having any clue about how 2020 would turn out. It was at one of his now famous  knowledge cafés, and the topic of conversation was about whether or not universities will remain relevant in preparing students for work.
It was my first knowledge café, and I loved the format – no one was the leader, everyone had an equal right to contribute. Well, at least at the begining,
I was surrounded by deans, and lectures and authors, yet the feeling I had was that none of them knew any more what to do about the situation than I did. Fascinating.
This interview that I had with David is one of the highlights of my podcasting life, because  he is such a wonderful conversationalist.
David Gurteen is a writer, speaker, and conversational facilitator.
The focus of his work is Conversational Leadership – a style of working where we appreciate the power of conversation and take a conversational approach to how we connect, relate, learn, and work with each other.
He is the creator of the Gurteen Knowledge Café – a conversational process to bring a group of people together to learn from each other, build relationships and make a better sense of a rapidly changing, complex, less predictable world. He has facilitated hundreds of Knowledge Cafés and workshops in over 30 countries worldwide over the past 20 years.
He is also the founder of the Gurteen Knowledge Community – a global network of over 20,000 people in 160 countries.
He is currently writing an online blook (a cross between a blog and a book) on Conversational Leadership.
David and I discussed his creation of the knowledge cafe movement, and about how democratised knowledge became a weapon as well as a tool. Finally he gave us his absolutely best tips on holding conversations with people who are different, with diametrically opposing views.
Thanks David.
When Labour No Longer Matters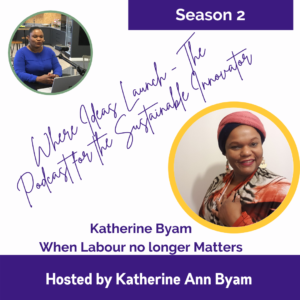 10 years ago, I realised that something was fundamentally broken with the way I understood business, governance and the economy. It wasn't because I didn't know the theory. It was that the theory stopped making sense to me.

The 17 Sustainable Development Goals came into being in January 2016, and act as the foundational lens under which to review the sustainability of our businesses, countries and entire planet.

One goal threads all my businesses together, and this is Decent work and Economic growth.

Tune in!


Katherine Ann Byam (MBA, FCCA) is a sustainable business strategist, and high performance leadership coach. She founded Dieple, Digitally Enabling People, a consultancy helping sustainable start-ups scale up, and tackling design questions for the future of growth, leadership and entrepreneurship. She supports businesses and their leaders to build resilience in their strategies in an increasingly digital marketplace.
She manages her business under 4 digital brands. 
Dieple Virtual Service Hub supports digital transformation IT and Operations strategies for medium sized firms and start-ups scaling up with her partner Christophe Nicault.
Career Sketching – supporting business executives with systems, tools and strategies to lead and innovate in their careers.
Collectively Driven co-founded with Neema Amin supports women getting started on entrepreneurial journeys to self-sufficiency.
Where Ideas Launch is a podcast and sustainable business advisory service rooted in innovation, sustainability, culture and creativity. She works directly with a community of 1K+ women creating eco-friendly businesses.
She advocates for sustainable business practices, leadership, and diversity equity and inclusion. She spends her time between the coasts of south England and west France, enjoying writing as a creative outlet.
Mental Health & Substance Abuse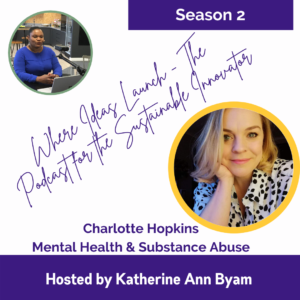 We know it, but sometimes it's hard for us to take action behind supporting appropriate selfcare. I've been guilty of abusing legal substances in my life. From alcohol, tobacco, sugar, I've allowed these substances to regulate my mood, my energy levels and short-term feelings of happiness.
On where ideas Launch – the podcast for the sustainable Innovator, I raise this topic because Health and Well being is number 3 on the list of sustainable development goals, and because I know that many are still dealing with the effects of the pandemic on their health and well-being.
Today we'll be talking to Charlotte Hopkins, who has dedicated two decades of her career to helping provide the right support to people experiencing addiction.  Charlotte works in the private sector, and has unique insight on how prevalent these issues are even amongst professionals who do not typically seek public support for their struggles.
Startup Ecosystems - Exploring North Macedonia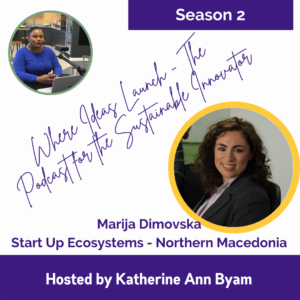 Marija Dimovska is a project management professional with 10+ years experience in NGO and business sectors. She has coordinated projects across cultures, implemented projects in innovation ecosystems working with a focus on technology and youth capacity building.
When she was 14, Marija wanted to know what happened behind the scenes of a Disney theme park, that led to thousands of customers turning up every year to have a good time. She's always been interested in the behind-the-curtain process and how to streamline operations creatively. She worked in organisations such as the U.S. Peace Corps and has built managerial expertise, while experiencing the power of a diverse team building an intradisciplinary know-how.
"When we bring together the human factor with the with digital tools/ technology we are creating and introducing a formidable instrument in the creative process of driving solutions to local and present-day global challenges!"
Found: Order Better for Zero Hunger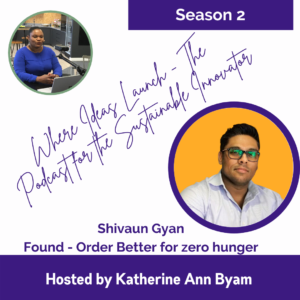 Shivaun Gyan (MBA,FCCA) started his career in Silicon Valley as an audit consultant for a big 4 audit firm and worked his way up the corporate ladder to Senior Director with work experience in over 20 countries spanning from the Caribbean to the Middle East. 
While doing his MBA at City Business School, he became inspired to change direction of his career towards startups and left his firm for the unchartered waters of startup life. His first role was CFO of an Electronics and Lifestyle Startup in Los Angeles, Headquartered in Shenzhen, China. 
In 2020, he co-founded Found Lifestyle, a platform that enables food and drink venues to boost sales and productivity by allowing staff to focus on providing excellent service to customers,using the app for a better in-venue ordering and smoother checkout experience. For every order on Found, a meal is provided to a person in need through its partnership with Feeding Britain. 
We talk about Found and Shivaun's Journey to create a business with purpose.
Modern Perspectives on Strategy & Innovation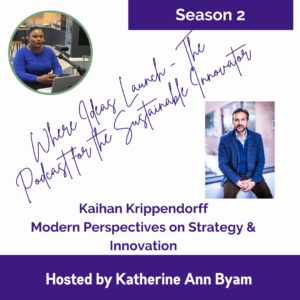 We talked to Kaihan about the current strategy and innovation landscape, and what companies are doing to meet the trend and wider social expectations of them.
Kaihan Krippendorff has made a commitment to helping organizations and individuals thrive in today's era of fast-paced disruptive technological change.    
He began his career with McKinsey & Company before founding the growth strategy and innovation consulting firm Outthinker. His growth strategies and innovations have generated over $2.5B in revenue for many of the world's most recognizable companies including BNY Mellon, Citibank, L'Oréal, Microsoft, and Viacom.A best-selling author of five books, most recently the Edison Award nominated,  Driving Innovation From Within: A Guide for Internal Entrepreneurs.  
He is a member of the prestigious Thinkers50 radar group – A global selection of the top 30 management thinkers in the world to look out for. Thinkers50 also recognized Kaihan as one of the 8 most influential innovation thought leaders in the world considering him for a Distinguished Achievement Award in Innovation – given to the person in the world that has contributed the most to the world's understanding of innovation in the past two years. Kaihan is currently ranked the Thinkers360 #1 Global Innovation Thought Leader and the Thinkers360 #1 Global Business Strategy Thought Leader in 2019. 
Kaihan also founded The Outthinker Strategy Network, a community comprised of strategy executives from the world's top Fortune 500 and private companies that keeps him ahead of the pace of disruption and up to date on trends, threats, and opportunities across industries.   
Amidst his dizzying schedule of keynote speeches, consulting projects, ongoing research and writing, Kaihan still finds time to teach at business schools throughout the US and internationally (including NYU, FIU, and Universidad Americana). Regularly featured in major business media outlets Kaihan is an advisory board member for a blockchain-powered transportation platform, an international food processing/exporting company, and a B-corporation focused on sustainable products and lifestyle.   
He holds degrees from the University of Pennsylvania School of Engineering, Wharton, Columbia, and London Business Schools and a doctorate in strategy. With a mother from Bangladesh and a father from Germany, Kaihan brings a holistic, diverse, and global perspective to everything he does. His work has brought him to 58 countries all over the world. He speaks three languages and has lived or spent significant periods of time in Asia, Africa, Latin America, Europe, and the Pacific. He lives in Greenwich, Conn., with his wife and three children.  
The Eco Protection Squad .... Coming Soon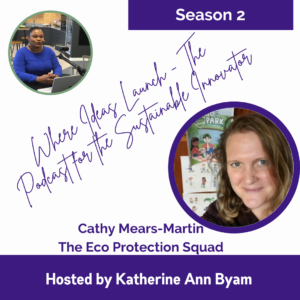 Cathy Mears-Martin is an environmental activist and author of a new series of children's books, the ECO Protection squad.
After travelling in Asia in 2016, Cathy became more aware of single use waste and began to research the problems and solutions linked to it.
She co-founded a company green team and started an account called sustainable ideas to share advice and guidance.
She is a Keep Britain Tidy Ambasador and an Environmenstrual ambassador for the women's environmental network.
Cathy Quit her job in December 2019 to focus completely on her passion for a cleaner planet. She became a recycling advisor, and began work on the Eco Protection Squad, a team of super kids helping to save Terra – Mother Earth from Bill McGreedy and his band of Eco squashers.
I can't wait to get my copy – can you?
The Capital for our Future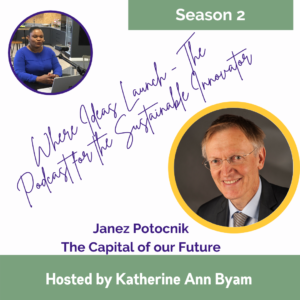 It was an absolute pleasure for me to talk to Dr Janez Potočnik about the state of our natural resources, and how we understand capital today, and what must change if we are to sustain life on our planet.
Dr Potočnik is a leading authority on the economics of sustainability, and it was truly an honour to learn from him in this session. He is a Doctor of Economics from the University of Ljubljana. In July 1994, he was appointed Director of the Institute of Macroeconomic Analysis and Development of the Republic of Slovenia.
In April 1998, the Government of the Republic of Slovenia appointed Dr Potočnik for the Head of Negotiating Team for Accession of the Republic of Slovenia to the European Union.
From June 2000 to December 2000, he was also the acting director of Government Office for European Affairs.
In June 2001, he was appointed a Minister Councillor at the Office of the Prime Minister Drnovšek. On January 24, 2002, the Government of the Republic of Slovenia appointed him for the Minister without portfolio responsible for European Affairs.
From 1991 until 2004 Dr Potočnik has also been an assistant professor at the Faculty of Law at the University of Ljubljana, where he lectured statistics and economy.
Dr Potočnik became a Member of the European Commission on May 2004.
From 2010 – 2014 he took on a second full mandate as Member of the European Commission responsible for Environment.
In 2014 he was appointed a Co-Chair of International resource Panel hosted by United Nations Environment Programme.
In the same month he was also appointed as a Chairman of The Forum for the Future of Agriculture and a chair of the RISE foundation.
He is also a Member of the European Policy Centre's Advisory Council. From April 2016, from the very beginning, he is a Partner in SYSTEMIQ.
From early 2020 he is a president of the ThinkForest and a special advisor to the Commissioner for Environment, Oceans and Fisheries Virginijus Sinkevičius.
In May 2008, he was awarded the honorary degree of Doctor of Science by London Imperial College (UK). In March 2009, he received the honorary degree from Ghent University (Belgium). In May 2016, he was awarded the honorary degree of Doctor of Science in Economics and Business Administration by Aalto University (Finland).
In September 2013, he received the United Nations' 2013 Champions of the Earth Award for the Efforts to Promote Resource Efficiency and Reduce Food Waste in European Union.In March 2014, the Catalan Association of research entities awarded him with The ACER Award for the visionary contributions and leadership that made possible the European Research Council (ERC).
December 2014, the European Environmental Bureau (EEB) awarded him the Twelve stars for the environment Award for his science-based approach to promoting environmental sustainability. In January 2015 during World Economic Forum he was as a first one awarded Circular Economy Leadership Award by the Forum of Young Global Leaders and Fortune. In November 2015, the Carlowitz Society awarded him the Hans-Carl-Von-Carlowitz Award for courageous, open minded, and international work for promoting the idea of the circular economy in Europe.
Human Potential...and the Future of Work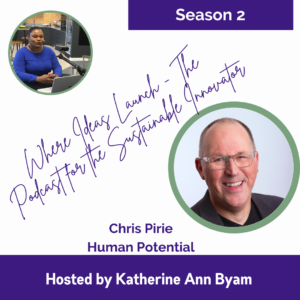 Chris Pirie – CEO of the Learning Futures Group is an experienced talent leader, obsessed with making the future workplace better. Formerly a Global VP of Online Learning at Oracle and Chief Learning Officer of Microsoft, Chris's entire career has been spent working at the intersection between Workplace Learning and Technology. He now provides advisory services to enterprise organizations and EdTech vendors and teaches as Senior Faculty at the Josh Bersin Academy and The Future Workplace Academy.
In 2019 Chris launched The Learning Futures Group to help organizations rethink their Learning and Development strategy in the face of historic workplace disruption and change. He launched Learning Is The New Working a podcast about the future of workplace learning and the people helping us get there, as part of his research activities.  The podcast has had over 30,000 downloads. He is also a founding director of Humentum.
Chris brings a passion for driving disruptive change and innovation and is a proven business and people leader of large functional teams in very dynamic enterprise environments. He has developed strategic partnerships with leading business schools such as INSEAD, London School of Business, and Wharton University.
He is an experienced Board Chair and Board member in learning related fields such as Association for Talent Development and Learning for International NGOs. A frequent contributor and speaker at industry conferences including Deloitte CLO Forum, Future Workplace Consortium, INSEAD CLO Forum, AST ICE conference and others.
He is a founding Director of Humentum.org a membership organization brining transparency, skills and localization to the capacity building efforts of the International Aid Industry.
Chris was born in The United Kingdom, and now lives mostly in Seattle in the USA. He loves to hike, read, sail, and travel with his educator wife, and two grown sons.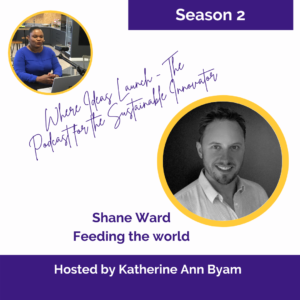 My next Guest is Shane Ward – a regenerative land use advisor, communicator and the founder of Action Ecology.
Shane brings an international perspective, scientific rigour and pragmatic approach to connecting people with the right knowledge, drawn from both innovative 'on-the-ground' practitioners and the latest research.
Passionate about sustainable food systems, ecosystem restoration, as well as plant, soil & microbial ecology, Shane also works more broadly to engage people with visioning a better way forwards for humanity's approach to energy, economy and agriculture – re-partnering with natural systems – so we might provide a chance for future generations to thrive on this planet.
We discussed how we can secure the future of our food supply using natural systems as a guide.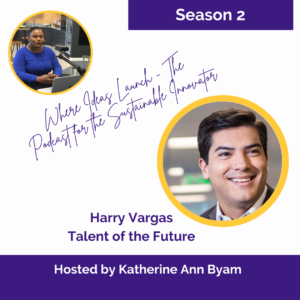 In this episode we are going to be discussing Future Talent with an old friend of mine, Harry. It was such a pleasure to reconnect!
Harry Vargas is a dynamic HR leader and change agent.
He's passionate about driving transformation for capacity building and growth, through commercially relevant and pragmatic organizational and talent strategies.
He has 20 Years of multi-market & cultural experience, successfully leading and developing diverse teams at local, regional and global levels.
Harry joined Microsoft in 2020, to lead HR and the culture & people transformational agenda, for the growing regional hub based in Costa Rica, serving LATAM and the US.
Harry is Costa Rican and grew up in Colombia.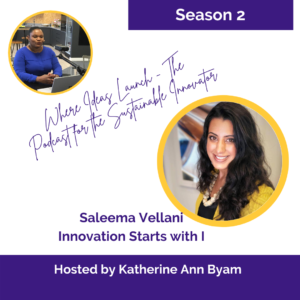 Saleema Vellani is an award-winning serial entrepreneur, keynote speaker, a professor, and the author of Innovation Starts With "I".
She's the Founder / CEO of Ripple Impact, which helps entrepreneurs increase their influence and impact through accelerating the growth of their platforms and businesses.
She also teaches Design Thinking and Entrepreneurship at Johns Hopkins University and is a frequent guest lecturer at business schools.
We discussed her new book, Innovation starts with I.
Here's the link to pre-order her book
https://www.indiegogo.com/projects/innovation-starts-with-i#/
And a link to her 100 Coffee Challenge.
https://saleemavellani.ck.page/100-coffee-challenge
Gjorgji Rafajlovski (Gogo)  is the Operational Director @SEEUTechPark in North Macedonia and an IP Consultant who helps entrepreneurs and innovative startups reach their maximum potential.
 With an ongoing 15+ years of successful career in managing StartUp Centers, Incubators, Accelerators & TechParks, Gogo has built-up a portfolio as an experienced business consultant & mentor, passionate about technology & brands.
 Hi background includes Operations Management, Startup Investments, Intellectual Property, Business Valuation, Innovative Growth. When he's not supporting a world changing start up business, he loves outdoor sports!
 https://www.linkedin.com/in/gogo-rafajlovski-5431356/
 We discussed how tech parks support start ups, the importance of IP, and we debated open innovation. Have a listen!