DOWNLOAD IT NOW!!!
WHERE IDEAS LAUNCH THE PODCAST
IS NOW LIVE!!
Where Ideas Launch
The Podcast for the Unexpected Innovator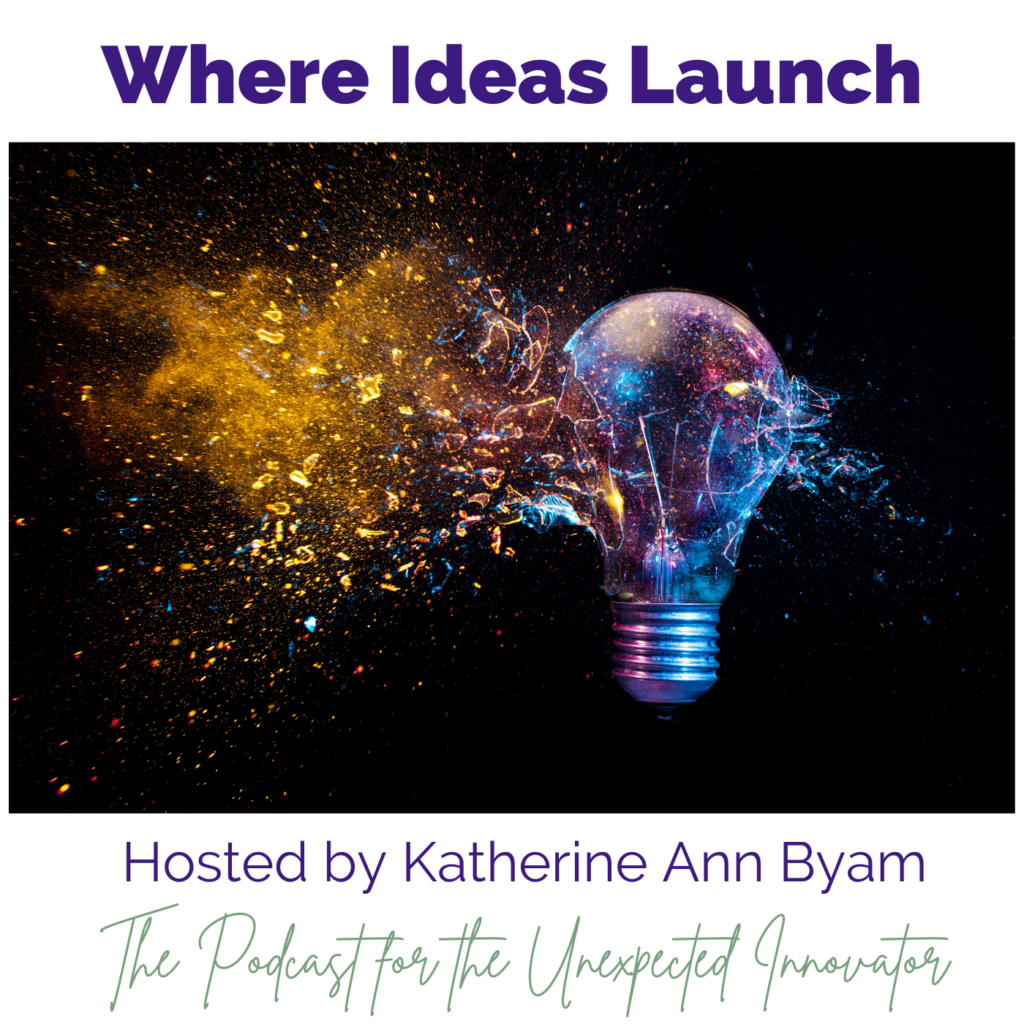 Six people so far. An Artist. A Consultant. An Educator. A Coach. A CEO. And me, a combination of all of these. Let's join together on this journey toward a sustainable planet for all.
Do you want to join the line up for this exciting new show? Sign up here for the resources to help you be a great podcast guest – and to schedule your talk with Katherine Ann Byam – Host of this show.
Exploring the Question - What Problems Do You Want to Solve?
Looking for support with your data driven strategy?
Where Ideas Launch – The Podcast for the Unexpected Innovator
Everyone of us can be the change. In fact, everyone of us must.
The most important thing we can do is stay in the question.
Where Ideas Launch aims to answer the question, by asking deeper and better questions. It aims to prompt change not by staying in the analysis, but by originating a new genesis.
This podcast aims to:
Challenge the status quo: show you how to speak truth to power, in a way that sparks momentum for change.
We will explore creativity from the eyes of educators, business people, entrepreneurs, and artists.
We will examine sustainable clothing brands, sustainable business models, and other ways to support the UN sustainable development goals.
Join us every week to look at our shared future from a new perspective, so that we understand the questions, that give rise to better ones.
Interested in reviewing your strategy?
Why not check out our virtual service hub? https://www.dieple.com/vsh
How to Build a Resilient Business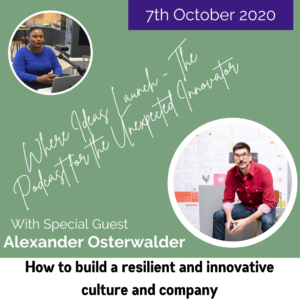 Where Ideas Launch was curious to learn what inspires the world's #4 Management Thinker.
We asked Alex these 3 questions:
What's your why – what question gets you out of bed every morning with a burning desire to solve it?
We know in our world today we have a burning platform of sustainability. What do you currently see as the role of business in solving these problems?
We know from your work that Innovation is heavily influenced by a company's culture. What are the top 3 things that companies with a great innovation culture do to sustain that culture and expand their economic lives?
Dr. Alexander (Alex) Osterwalder is one of the world's most influential innovation experts, a leading author, entrepreneur and in-demand speaker whose work has changed the way established companies do business and how new ventures get started.
Ranked No. 4 of the top 50 management thinkers worldwide, Osterwalder is known for simplifying the strategy development process and turning complex concepts into digestible visual models.
He invented the Business Model Canvas, Value Proposition Canvas, and Business Portfolio Map – practical tools that are trusted by millions of business practitioners from leading global companies.
Strategyzer, Osterwalder's company, provides online courses, applications, and technology-enabled services to help organizations effectively and systematically manage strategy, growth and transformation.
 His books include the international bestseller Business Model Generation , Value Proposition Design: How to Create Products and Services Customers Want, Testing Business Ideas and The Invincible Company published in Spring 2020. To learn more about Alex's work you can subscribe to the Strategyzer news letter by clicking here
Sustainable Business Trends in Luxury Brands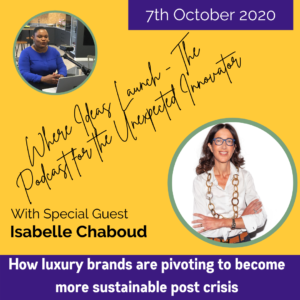 Where Ideas Launch – The Podcast for the Unexpected Innovator had the pleasure of interviewing Isabelle Chaboud on her insights on how luxury brands are becoming more sustainable.
Isabelle is an inspiration to her students past and present, as she does finance with style and flair. Her articles have been viewed more than 350000 times, a testament to the value she brings.
This podcast explores:
The financial impact of the pandemic on luxury brands bottom line.
The trends in sustainable change and whats driving it.
The upskilling needed by people adversely  impacted by the pandemic.
Isabelle Chaboud is an Associate Professor in the Finance Law and Accounting department of Grenoble Ecole de Management. Since December 2018, she has been Programme Director for the MSc in Fashion Design & Luxury Management and since September 2019, responsible for the MBA Brand & Luxury Management specialisation.
Her main areas of teaching are financial analysis (especially in the luxury sector), auditing and international accounting.She teaches or taught in Grenoble, London, Paris, Berlin, Marrakech, Moscow, Tbilisi (Georgia) and Singapore.
Before joining Grenoble Ecole de Management in 2001, Isabelle worked for 7.5 years for PriceWaterhouseCoopers in Lyon, France where she was a financial audit manager. She had clients in various industries as well as in services. She was part of the European Internal Audit team of PwC and worked in Spain (Madrid) and Portugal (Lisbon).
Isabelle is a French native but lived for more than three years in the United Kingdom, two years in Germany, one year in the United States, one year in Spain.
She graduated from Grenoble Ecole de Management in 1992 and from the International Teachers Program (ITP) delivered by HEC Executive Education, Paris in June 2014. She regularly publishes intellectual contributions in different media. to read her article on this topic, click here.
How to Thrive in a Recession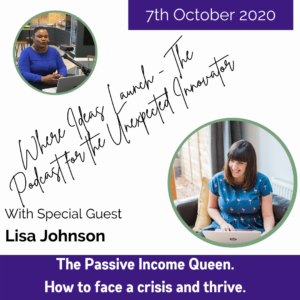 In February 2020, I attended an HBR networking event, where BCG offered insights to attendees about the pending recession.
Little did we know that a month later we wouldn't just be in recession, but the world would come to a standstill in a battle against an invisible disruptor.
In April, I met Lisa Johnson, a former city analyst turned entrepreneur, shouting to everyone who would listen that they need to build passive income streams into their business models.
This episode talks about:
What is passive income, and common examples.
Lisa's journey to grow her business from 30K in losses to over a million in revenue in 3 years.
How she represents and advocates for diversity and inclusion and against bullying of any kind.
Lisa Johnson is a 7 figure business coach specialising in helping entrepreneurs scale their businesses using passive income from memberships and courses.
After a tough childhood spent in social housing, Lisa went on to have successful careers in law, banking and the entertainment industry. Her background in overcoming obstacles has helped mould her into a bold, straight talking coach, who is never afraid to be an authentic and outspoken truth teller.
Lisa is a huge believer that everyone can become a success no matter their background and is known for her anti-bullying campaigning online.
Lisa lives in Hertfordshire, UK with her Husband and 8 year old twin sons but coaches around the globe.
To learn about passive income check out her free challenge here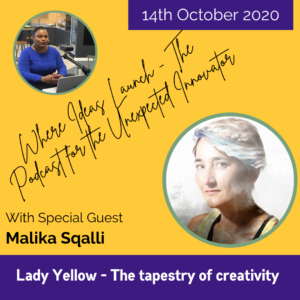 I met Malika over a question. I was consumed by the idea that people who do really great things, do so because they ask great questions. I shared this thought in a virtual social networking group and Malika chimed in – As artists, this is exactly how we work. We seek to ask questions only the individual viewer or consumer can answer. if the question is answered, the piece loses interest for us.
In this episode we discuss
How culture and diversity influences creativity
How she combines mental and physical challenges to open new portals and generate new ideas
How she uses her environment to stir her creative genius, no matter the setting.
Born in Morocco to Austrian and Moroccan parents, Malika is a visual artist and photographer, who cites her diversity curiosity and connectedness as inspirations for her work.
Having lived in various countries, without her family from an early age, she identifies with a feeling of belonging to everywhere, and being the foreigner as well. She learned to exploit this polarity in her art and photography, creating different mosaics of culture and a universal perspective, shaped by her natural optimism and hope.
Her travels and work have taught her to seek the similarities, common wisdom, and shared mythologies of the ancestors, rather than the differences and boundaries that disconnect us.
Malika's work has been exhibited on four continents, and in cities as diverse as London, Marrakech, Los Angeles, and Seoul. In 2013 she also delivered a masterful TedX talk on her travel along the latitude line 34.
Malika was also a qualified personal trainer and holistic lifestyle coach Kettlebell athlete for a decade in London. She is also a fully licensed skydiver and skydiving camerawoman and created a personal photography project while in the sky.
" we are made of Atoms, ideas and stories, for if we don't act on our ideas they don't become stories. " Malika Sqalli TEDx Casablanca 2013
To view Malika's work, you can access it here
How to Create a Sustainable Business Model for Kelp Farming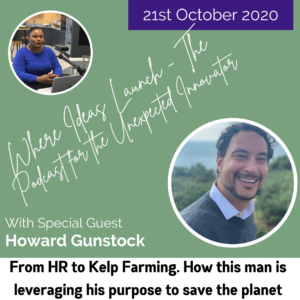 If there was ever a story that sums up Where Ideas Launch, its the story of this CEO and Chief Kelper of Carbon Capture Limited. Howard's background may surporise you, but this is a story of genius, demonstrating that creativity is everywhere, once the question is good enough.
In this episode we discuss
How Howard pivoted from HR to decarbonising our atmosphere.
How a sustainable business model was developed for his Kelp farming operation
What you can do to get involved in a supporting your planet to survive and thrive.
Howard Gunstock refers to life as the great adventure. A career people developer, Howard is one of the co-founders of Carbon Kapture, a business whose intention is to help the world reframe their relationship with carbon and CO2 pollution; he is never one to shy away from a daunting challenge.

His career is a bit of an adventure too. After leaving school in the mid 90's he became an early practitioner of the Law of Attraction, living in Australia and working in sales under the tutorage of Julie Renyard (EatPlayLive). After a stint in Telemarketing he worked in event management and lived and worked in Ibiza before another career pivot in 2003 took him into Banking and Insurance whilst he studied HR. Now, with over a decade's experience in executing corporate development strategies for some of the world's best-known brands, he is pivoting once again into monetising one of the world's biggest challenges, the climate crisis.
Want to support this daring young company? click here to support their crowd funding campaign.
Creativity On Purpose - Finding Meaning In Work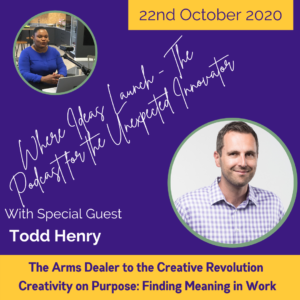 I discovered Todd Henry during an online summit on Productivity, and I've followed his work ever since.
We had a great chat recording Where Ideas Launch – The Podcast for the Unexpected Innovator, where we talked about the privilege of finding meaning when many are simply are trying to survive.
Efficiency is overrated he said, and effectiveness contributes to real value in an organisation.
Positioning himself as an "arms dealer for the creative revolution", Todd Henry teaches leaders and organizations how to establish practices that lead to everyday brilliance. He is the author of four books (The Accidental Creative, Die Empty, Louder Than Words, and Herding Tigers) which have been translated into more than a dozen languages, and he speaks and consults across dozens of industries on creativity, leadership, and passion for work.
He's got a new book on the way. The Motivation Code. Tune in to our podcast on your favourite player today.
Overcoming Adversity - Double Episode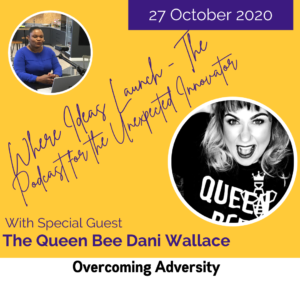 Dani Wallace Is a Public Speaking Coach, Incredible Singer, absolute survivor and a guest on my show.
We talk about her journey to overcome adversity and build a successful business and life for herself and her children. I chose this topic, because many people need hope right now, and Dani delivers this in abundance.
About Dani Wallace
As a former serial self-saboteur, having grown up on the council estates of Preston, Dani has survived the adversity of domestic violence, homelessness and single parenthood to become a leading voice in empowerment around the UK.
Dani uses her knowledge of both traditional employment in the corporate sector and self-employment in the entertainment industry to deliver memorable, inspirational and thought-provoking talks. Through her world class courses, masterminds and VIP experiences Dani helps people all over the world create incredible talks that help them stand powerfully on stage, reaching more of their ideal audiences.
Fearless leader of the I Am The Queen Bee Movement and creator of the Fly Anyway Foundation, Dani helps people the world over Show Up Wise Up and Rise and is a reminder to anyone who enters her orbit that they too, regardless of their journey can #FLYANYWAY!
Developing a Culture to Drive Innovation and Change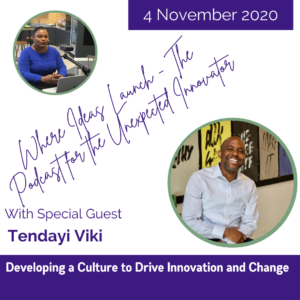 I discovered Tendayi Viki during a Strategyzer masterclass on building resilient companies.
We talked about:
What company cultures are more likely to ride the wave of disruption well.
We discussed sustainability, growth and transformation
What type of pirate we should be to make changes happen.
 Tendayi Viki is an author and corporate innovation expert. As Associate Partner at Strategyzer, he helps companies innovate for the future while managing their core business. He has written three books; Pirates In The Navy, The Corporate Startup and The Lean Product Lifecycle. He previously served as Director of Product Lifecycle at Pearson, where he co-developed an innovation framework that won the Best Innovation Program 2015 at the Corporate Entrepreneur Awards in New York. Tendayi has been shortlisted for the Thinkers50 Innovation Award and was named on the Thinkers50 2018 Radar List for emerging management thinkers to watch. He is also a regular contributor at Forbes. 
Leveraging Your Strengths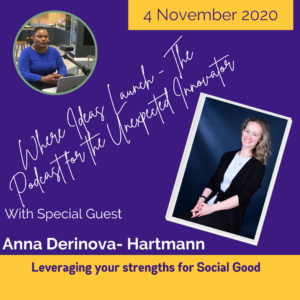 I met Anna during a women tech workshop back in June, and since then we've become friends and allies in a journey toward sustainable change.
During our interview we discussed
Her motivation to become an ally for social equality
The key focus areas for sustainable development
Lessons learned in creating partnerships between NGOs and the For Profit Sectors
Anna Derinova-Hartmann is a passionate social impact and international development activist. She combines extensive experience in Program Management, Community Engagement, Corporate Social Responsibly and People Management.
Her purpose is to challenge social inequality and institutional barriers by empowering vulnerable social groups and communities through innovation and meaningful connections.
Anna, as she states herself, is incredibly lucky to have been exposed to various working environments and experiences: NGO sector, global corporations, social impact and tech start-ups. Thanks to this versatile experience she learnt a lot about the power of communities, social connections, mutual responsibility and open communication. While contributing to building and scaling numerous start-ups, optimizing and developing business divisions and corporations, Anna witnessed the ultimate value of cross-functional cooperation and human relations.
Anna is very passionate about supporting social impact start-ups and initiatives across the world, coaching and mentoring founders and women in Tech. She is consistently helping to leverage innovation in humanitarian assistance and international development spheres, as well as bridging an "artificial gap" (her words J) between corporate and social impact non-profits.
Anna loves her cats, her husband, reading, networking, engaging in challenging discussions with her Moving Worlds co-fellows from all over the world. She is very open to being approached on LinkedIn with any requests, suggestions, initiatives or just topics to chat about.

Fresher Food, Fitter Planet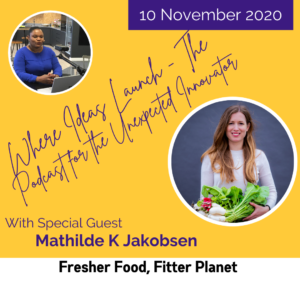 I discovered Mathilde on another show, and had to get to meet her, as her story and business was so inspiring to me.
We talked about Fresh.Land and how the idea for her sustainable business came about.
How she overcame challenges in the start up process
Advice for others wanting to make a positive impact on the planet.
Mathilde Jakobsen is CEO and Co-Founder of Fresh.Land, an award winning green tech startup with an innovative and disruptive model to the food industry.
The company shortens the journey from farm to table by connecting farmers, logistic partners and consumers in one integrated digital platform. With Fresh.Land's just-in-time model, instead of months, it takes just a few days from harvest to delivery. By cutting out 3-5 middlemen, farmers secure 20-50% more value and consumers get fresher, tastier products.
The model has a lower carbon footprint compared to that of the conventional chain — 88% lower, according to a study by World Wildlife Fund (WWF) — as it eliminated the need for cold-storage and ripening chambers, which are large greenhouse gas emitters.
Fresh.Land has been identified by Forbes as "truly pioneering" and "one of the most promising green start-ups in the EU", and awarded the "Climate Solver Prize" by WWF. We thrive to be the lighthouse of the food industry, setting new standards and leading the way for green transition. In Fresh.Land the trees and fields are our "natural warehouse" and products are only harvested after the order is placed by the consumer.
Our model disrupts the giant old food industry that has long been ripe for disruption.
Managing Learning & Change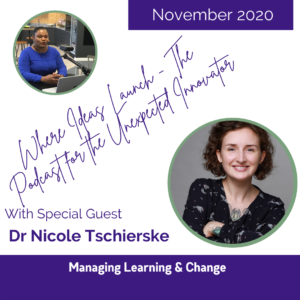 I met Nicole during a women tech workshop, and later joined her Women in Stem Reimagined Course as a guest Speaker. I interviewed her as part of my courageous career show, and decided to share her advice on my podcast as well.
We talked about:
Important skills in organisations for the next 2 years.
Tips for organisational transformation
Vision for women in Technology for the future.
 Dr. Nicole Tschierske is a scientist and positive psychology coach who helps women in science and tech use their head and heart to get seen and noticed in their company.

She's an experienced change manager and coach, and we are going to be talking about her experiences and learnings on the change journey.

Nicole lives in Hamburg, Germany, is a food chemist by training and holds a PhD in chemistry next to certifications in coaching, positive psychology, change management and advanced problem-solving.

When she's not buried in research papers and books on Positive Psychology and Positive Leadership you can find this scientist-turned-coach taking long hikes in the German countryside or mesmerised by Mary Poppins on the screen.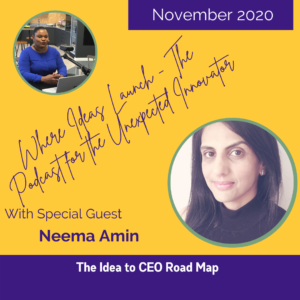 In this episode Idea to CEO we take you on a journey through 4 key elements to building your business, going through the Idea, Development, Commercialisation and Growth.
 Neema Amin (MBA) – Escape Strategist, is a business coach supporting freelancers, consultants and micro businesses to obtain financial freedom and create a life and business they love. She has built several 6 figure businesses over more than a decade of Entrepreneurship.
Katherine Ann Byam (MBA, FCCA) is a sustainability business strategist, consultant and career coach. She is the founder of Dieple, Digitally Enabling People, A digital transformation consultancy firm based in the UK helping start-ups to scale up, and coaching executive business leaders.
 Together we run a group and a purpose driven movement called collectively driven, a community for women to grow sustainable businesses and incomes for their families.
We formed this collective as we wanted to make an impact using collaboration as our model. We believe in a system that serves everyone and not just a few. We believe in levelling up incomes so that we all can live an outstanding life.