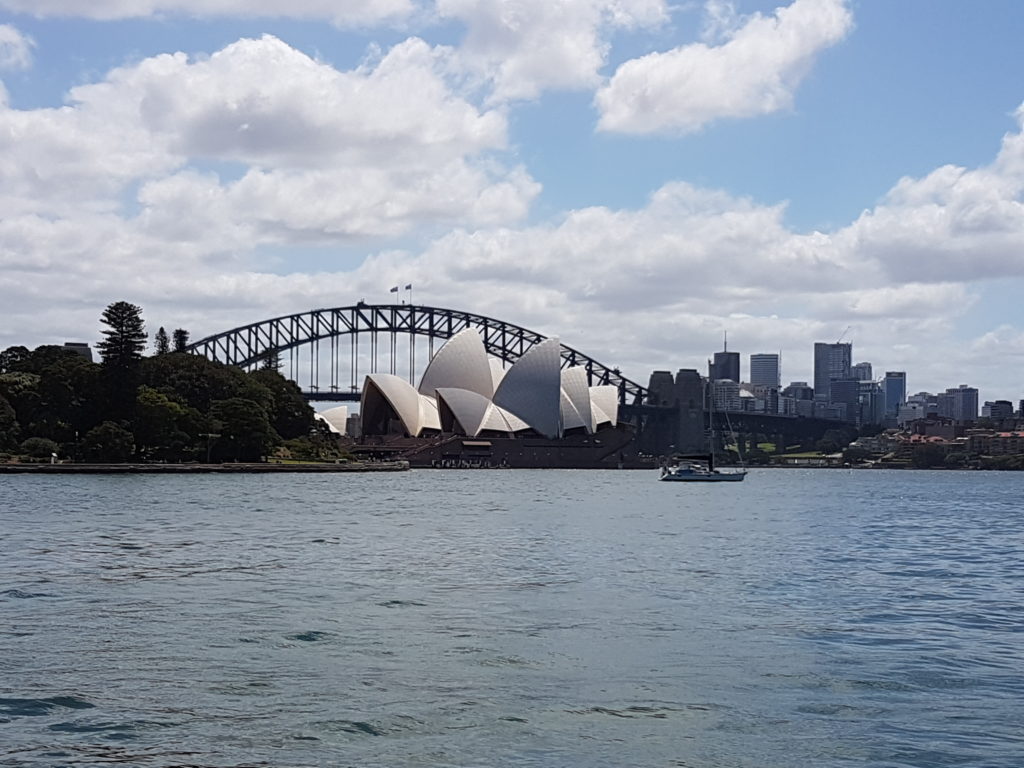 Extinction is the rule, survival is the exception. Carl Sagan
Seventy percent of Digital Transformation projects (DX) do not achieve their goals, and out of 1.3 trillion spent last year, 900 billion was wasted (Tabrizi, Lam, Girard, & Irvin, 2019). These numbers are both astonishing and revealing; the challenge is far bigger than investment alone.
This is the first of our series on Digital Transformation, drawing on our collective experiences in transforming businesses, as well as publicly available research.
What is Digital Transformation?
Digital Transformation, abbreviated as DX or DT, can be broken-down into its 2 component parts. Digital in this sense, refers to the use of computational technology, whereas transformation refers to a definitive change in nature, form or outcome (Oxford Dictionary). A company's Digital transformation project therefore by its nature employs the use of technology to change component parts of a business in fundamental ways.
So, what are we attempting to change? The answer is everything.
Using the analogy of a car may be fitting. When the Ford Model T was developed in the early 1920s, it changed everything for businesses in America, with implications further a sea. It opened the possibility of growth the likes of which had never been seen, but not before emerging from vast economic shocks in other areas of the economy, such as agriculture.
Let's imagine that a business is a four-wheel drive car, each wheel with the ability to move independently, but acknowledging that each must move in unison to be effective at accomplishing its objective time and time again. For the purposes of illustration, let's assume each wheel has its own engine much like modern prototypes, and is propelled using 4 spokes.
The Wheels of DX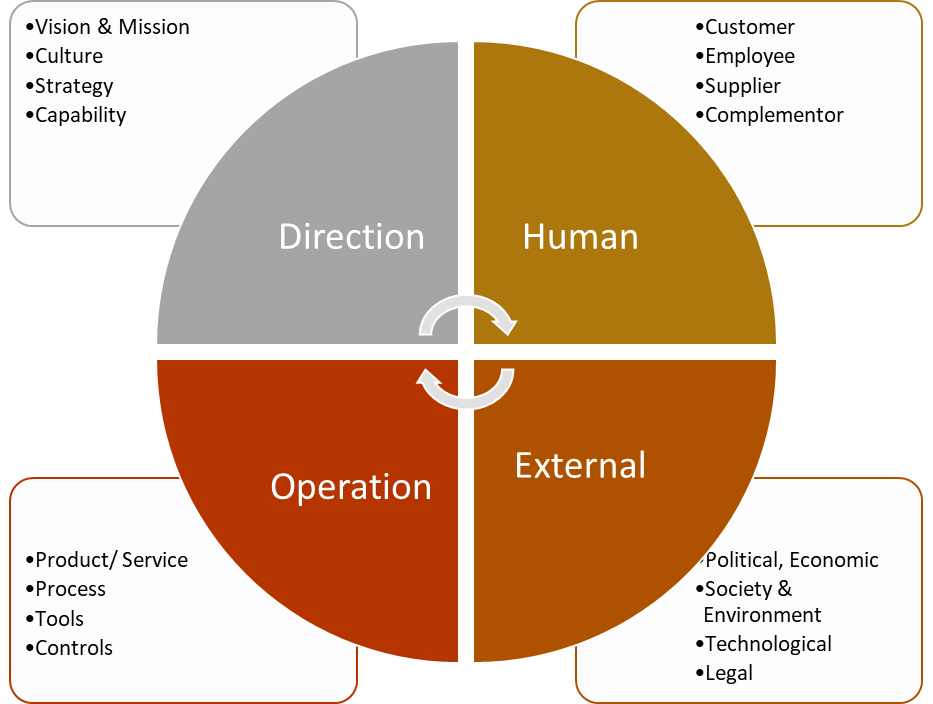 Driver 1: DIRECTION
We need to know where we are going. In researching the stories of successful transformations, there are some key characteristics of this 4 spoke wheel, that becomes evident when you interact with executives from that company. Microsoft in particular, exhibits these priorities (Montgomery, 2019). They are clear on:
Vision & Mission: They know why they exist, what purpose they serve, and what broad outcome they expect. This perspective is steady and unlikely to change for extensive periods of time.
Enterprise Strategy: This Strategy is clear enough to give direction enterprise wide, but open enough to allow different segments of the business to develop to their fullest potential with minimal constraints. This is a difficult balance, but a necessary one, given the rate of influence of some of the other wheels in this car. This section will consider the sustainable goals of the vision and mission in its short-term horizon for decision making. Typically a significant change to Enterprise strategy will precede the establishment of a Business or Digital Transformation Programme being set-up, and it is vital that the strategy is clearly understood and regularly referred to during the Transformation.
Culture: Not enough can be said about culture. Your culture should be reflective of the societies that you serve as a business, so how you incorporate diversity and inclusion of that society is key. Added to this must be the ability to learn quickly from failure "failing fast" and to allow a certain amount of creative abrasion amongst your innovative and agile teams such that you arrive at the most optimal outcomes.
Capability: Maintaining and growing capability for today and the future is a key directional spoke for this wheel. Facilitating a workforce that is adaptable, responsive and knowledgeable on key first principles across the various fields in which your business operates is key, and then the ability to build on that with flexibility will make this company great. DX typically requires a step-change in the skills available in an organisation. An assessment of the gap analysis of skills and capabilities can support identification of required changes to deliver the transformation. The organisational structure, recruitment and training plans will set up your business for success, or, indeed for failure, if not well executed.
DRIVER 2: HUMAN
The DIRECTION engine will inform the strength and health of the HUMAN engine. The people involved in this wheel should be able to perceive the company's vision, values and beliefs by their behaviour. There is much debate as to which of the first two should come first; is it customers or employees, but this ultimately depends on the company's direction.
Customers: Your customers provide the life blood of your business. They are a combination of your users who are your assets if you are a platform operation, as well as those who purchase your products or services. Successful digitally transformed businesses understand their user/customer needs and seek to regularly deliver upon them. In this way your customers are collaborators. The world has moved from Caveat emptor to Cave venditor. (Pink, 2012). How you collect, analyse and segment your user/customer base is critical to providing the insight for successful products and services.
Employees: Employees are influenced by all the wheels of this organisation, including this one. The vision of DX from an employee perspective is to provide them with the tools and information to make better and faster decisions. This is a journey toward empowerment.
Spokes 3 and 4 of this journey form part of one theme which is the Ecosystem.
Suppliers: Your suppliers need to be partners. Ideally you want to work with suppliers who broadly share your values as a company, and in so doing seamlessly align in their processes, products, services, and human strategies in all that they supply to you. We live in an increasingly connected world where your company can either grow or be hurt by association. Selection and strategies for collaboration here are vital.
Complementors: Although as a business you have a more indirect relationship with complementors, they no doubt remain part of your sphere of influence. The decisions, strategies and partnerships formed here can make a difference to your long-term purpose and goals.
DRIVER 3: OPERATIONAL
These are the proverbial nuts and bolts of your digital transformation, and as such many companies are tempted to start here. Starting here can be useful as a proof of concept and to generate buy in, and certainly can create incremental improvements based on what can be referred to as sustaining innovation, but this alone will not deliver DX. For deep transformation, this section must also be fed by each of the other engines.
Product & Service: What do you customers want and how can you deliver it? How long might they want it? What implications does this demand have on my existing products? What lead times do I have to deliver? There are many questions to answer here originating from every spoke in every wheel, including the question of your company's unique capabilities, vs what can be considered a commodity.
Tools: This is the first specific mention of technology in the overall DX process. Tools enable your product and service to be created and supplied. Selecting the right tools with consideration of the value they generate in their expected lifetime will be key, along with the nature of support needed to operate them.
Process: How all your engines collaborate with each other. It's the oil, the shaft, the communication system that drives this car forward, backward or into a stall. Process needs tools, and tools need process.
Controls: in an increasingly cyber based world, security becomes tantamount. Have you assessed your risks? What checks and balances do you have in place? What alert systems? What defaults and recovery systems? A digital transformation is incomplete without consideration of the control environment.
DRIVER 4: EXTERNAL
Otherwise known as the PESTEL engine, or the influences of Politics, Economics, Society, Technology, Environment and the Legal framework. PESTEL is a traditional tool in strategy and business development, but the digital landscape has deeply permeated much of the considerations herein. There are several advocacy groups across the full scope of PESTEL that are impacting them such as the liberalism vs fascism, trader wars, inequality, climate change, tax law, data privacy, antitrust, and the leaps and bounds in the technological landscape. Monitoring and proactively working with these groups and governments is an imperative to a sustainable future.
DRIVER 5: DATA
No modern self driven car is complete without the 5th source of differentiating power, which is DATA. Data is distinct from the technological tools which facilitate it. It provides the key insight for each wheel to operate independently but with knowledge of the others. It enables our car to avoid speed bumps, or to safely navigate them. It gives rise to new strategies at various levels of the organisation, and with a variety of time horizons. Data is ubiquitous and renewable; our use of it does not diminish it for others. Data however is not free, and the skill to extract meaningful insight from structured and unstructured sources can enable competitiveness.
In our future articles, we will explore each Engine for DX in further detail, drawing from real examples, and expand on the future role and outlook for data.
Article Collaborators
Katherine Byam : Founder & CEO @ Dieple Consulting & Training Limited
Christophe Nicault : CTO @ Dieple Consulting & Training Limited
Krishna Patel: Business Transformation Director @ Vedanta Enterprises
Bibliography
Pink, D. (2012). To Sell is Human: The Surprising Truth about Moving Others. In D. Pink, To Sell is Human: The Surprising Truth about Moving Others (p. Chapter 3). New York: Riverhead Books.
Tabrizi, B., Lam, E., Girard, K., & Irvin, V. (2019, March 13). Harvard Business Review. Retrieved from Harvard Business Review: https://hbr.org/2019/03/digital-transformation-is-not-about-technology
Montgomery, A. (2019). Building Value Through Digital Transformation. Digital Transformation EXPO Europe 2019. London: Microsoft.