My thanks and appreciation go out to Cherisse Moe and Essiba Small for this segment in Her Magazine, Express Newspaper Trinidad and Tobago. I am proudly Trinidadian and British, and really excited to be on this journey with my new company, Dieple Consulting & Training Limited, helping leaders transform their firms and roles with sustainable digital strategies. We are Dieple. Digitally Enabling People. Do enjoy the read!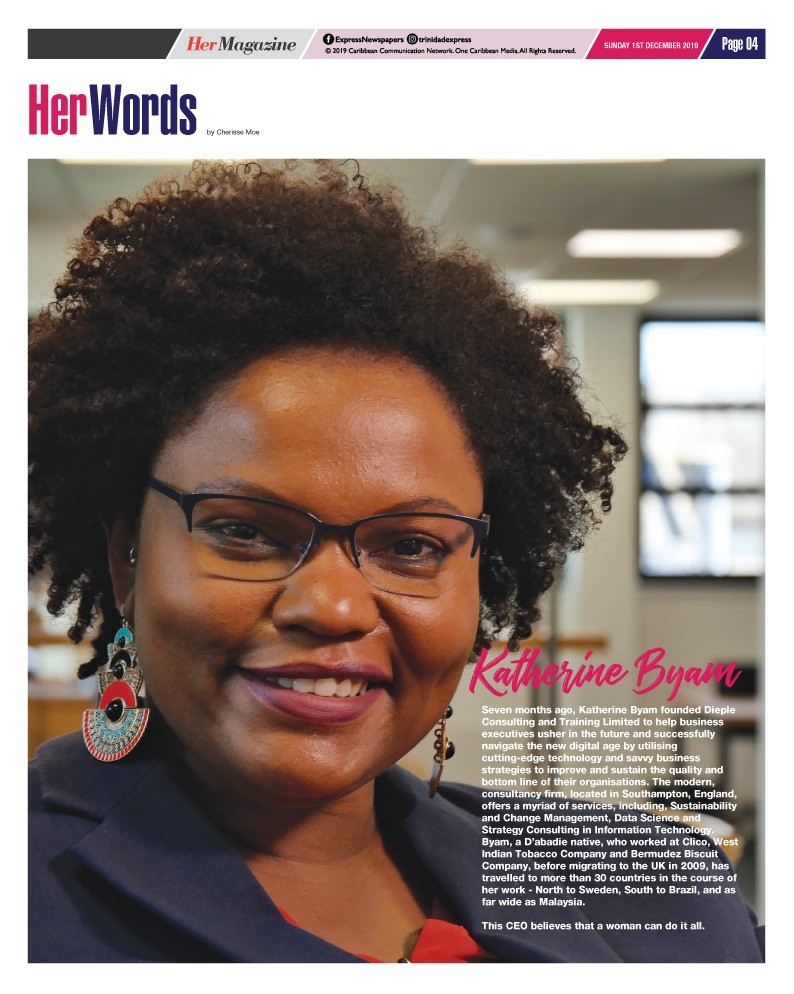 Seven months ago, Katherine Byam founded Dieple Consulting and Training Limited to help business executives usher in the future and successfully navigate the new digital age by utilising cutting-edge technology and savvy business strategies to improve and sustain the quality and bottom line of their organisations. The modern, consultancy firm, located in Southampton, England, offers a myriad of services, including, Sustainability and Change Management, Data Science and Strategy Consulting in Information Technology. Byam, a D'abadie native, who worked at Clico, West Indian Tobacco Company and Bermudez Biscuit Company, before migrating to the UK in 2009 w has travelled to more than 30 countries in the course of her work -as far North as Sweden, South to Brazil, and as far East as Malaysia.
This CEO believes that a woman can do it all.

Dieple
Dieple comes from the letters of three distinct words that is the essence of who we are – Digitally Enabling People. It rhymes best when you pronounce it Deeeple! In our work, we consider the concept of triple bottom line growth; managing positive outcomes for shareholders, society and our planet. The fourth industrial revolution is unleashing an explosion of technological innovation, much of which will fundamentally change work, and our daily experiences, and, with great hope, will also enable us to overcome the current sustainability challenge we find ourselves in, after centuries of disruption to our natural ecosystems.
When Apple created the first commercially successful platform with iTunes and the Ipod in 2001, they unlocked something that perhaps they didn't even understand. People wanted to choose their experiences of life, and celebrate their individuality in the way they consume music, and as things turned out, much more than music. This innovation marked the beginning of democratised information, digital opportunity and an expansion of our personal journeys in unimaginable ways. We are not just investing in doing work that we love, we also feel a sense of duty to support clients in tackling the challenges of this new era, sustainably. We achieve this by supporting data driven business processes that drive out waste and inefficiencies and implementing strategies that consider short, medium and long-term survival of the firm. We also support start-ups with business model development and address directly the human dimensions of change, providing coaching and designing workshops and organisational systems aimed at facilitating these changes.

Hurdles
Starting a company may be the most stretching professional challenge I've ever had. This is no place for perfectionism. You move from long work sessions collaborating with your bosses in the corporate setting to perfect your work, to having your work assessed by the world on social media. The learning process is far from immediate. It takes time to scale, build your brand identity, and get the right people to know and appreciate your work. Establishing a connection and relationship with your target audience is important, and honing in on the right language to use to make that pitch is continuous and distinct for every client.
Balance
My partner in life is my partner in business. He is a data scientist and although our skills combine remarkably well when serving our clients, managing the working relationship with the domestic relationship took some level of deliberate action; and it's the main reason we took up residence at a co-working facility near home. This gave us the ability to untangle our personal and professional lives, expand our community to other professionals facing similar challenges and force us to work more regular hours as the office closes. When you're passionate about something, it helps to have some structure to contain it.
Advice: Be Open

I have strived to dislodge any ideas that do not need to be fixed; I think it's one of the lessons I've learnt growing up in Trinidad and being a global citizen. My upbringing made me open, for example, to different religions. My travel made me aware of the variety of approaches we can take to build a thriving society. My work on sustainability has made me aware of how broader systems thinking can open incredible opportunities. You never know where your inspiration will come from, so be open to all of it. My advice is, get a coach; maybe even several coaches. You'll need more support than you can even begin to imagine on this journey, so don't be afraid to ask for it!
Read. Listen to podcasts and audiobooks. Take free courses. Network like your life depended on it, as it does! Fix your values and goals but be flexible on everything else. Let the market tell you what to do in time. Starting a business is about expanding your known limits by multiples.

Home
I absolutely love living in England. It's far easier than I thought to get around by foot or public transportation and it has its own energy; the bustling cacophony and melody of different accents, languages and pitches, the fast pace of everything, the cool climate. Summer is wonderful here. Winter is something else entirely; dark skies by 4pm, cold humidity sinking into your bones, definitely not my cup of tea! For some reason, more precise labels are more important to people here than I expected. In Trinidad, I truly believe we mastered the art of inclusion. Getting invited to someone's home was normal but it's less the case in the UK. Still, adjusting to life without doubles, callaloo, pigeon peas and chadon beni, has been rough. We don't have enough good Trini restaurants here. Our cuisine is so distinctive, it's a shame we cannot quite seem to make it scale well in the UK as it does in Toronto or New York. I also miss family, former work colleagues, classmates – that community that just gives you this incredible feeling of "home."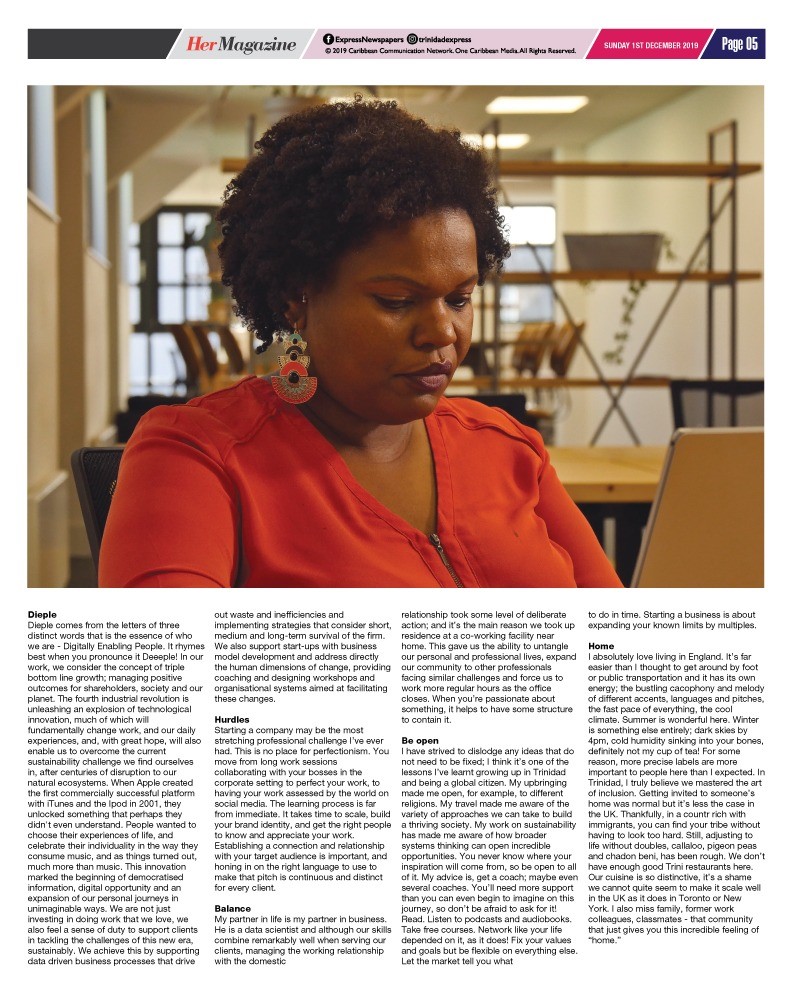 By Cherisse Moe with Katherine Byam
Learn more here